Femdom Weddings
Mistress Lisa's site about FemDom Weddings, Renewal of Vows, or FLR Ceremonies
I see messages like this one online:
"I am in a committed relationship with my Mistress who has expressed an interest in having a Femdom Wedding or FLR ceremony. I'm having trouble finding websites on this topic. I would appreciate any help I can get."
So I have decided to create this website to help those who are looking for information...whether it be the male sub or Domme.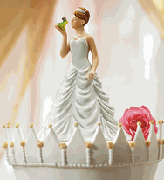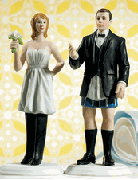 What is a FemDom Wedding? Basically a FemDom Wedding can be anything the couple wants it to be. It's your special day. Personalize your wedding/reception according for the Domme and male sub. Make it special for you as a couple.
The important thing here is to sit down and really think about what you want. It doesn't matter what anyone else wants, it is your special day. If you want to get married in leather and chains then do it, if you want a fairytale wedding with the pretty white dress and garlands of flowers...then do that.

---
Here's some things to think about for a wedding:
Determine your budget and the size/style of your wedding.
Any special ideas or themes in mind? Whimsical, classic, very modern, romantic, beach theme, heart theme, etc.
A regular wedding, some subtle hints of d/s, or something boldly kinky? Or will the wedding be romantic and save the kinkiness for the honeymoon?
simple or elaborate?
what location, date and time? (held outdoors, in a home, in a backyard, at a bdsm conference, country club, clubhouse, etc.)
do you need to rent enough chairs for it?
have a bouquet? and will the Goddess later toss the bouquet?,
are you writing personalized wedding vows? any poems? any special rituals?,
giving rings, or special jewelry (ie: silver chain collar) or gifts to each other?,
what color scheme? what decorations do you prefer for the look of your wedding? (unifying some things with color will look nicer),
do you have special flowers in mind for the decor?,
any special, regular or colored napkins?,
any candles, luminaries or special lighting?,
anything special on the floor? (runner, rose petals, lights, archway, candle holders, cushions for subs to sit on, etc.)
who is going to buy the decorations? who is going to setup everything and takedown?
send e-invitations/e-thank you cards or printed ones?,
any programs or are they not needed?,
any music? and if so what songs or style of music?,
do you want any desserts (ie: a wedding cake, cupcakes, pie, candy, or chocolate fountain)? whose making them?,
any cake topper? if so which?
any food or hor d'oevres for guests and what kind?,
any drinks? glasses/champagne flutes?,
how many guests? want a guestbook?
any favors for guests as a souvenir/thank you for coming?,
do you want photos? if so who will take them?,
what will the couple wear? (traditional, classy or contemporary wedding gown, or leather/corsets/kinky clothes or something else?,
what shoes or boots will she wear? will she be getting her hair done special for the event?
any bridal headpiece or something in her hair? (tiara, veil, headband, circlet, decorative hair pins, flowers)
what you want guests to wear (classy, semi-formal or kinky)?,
any special guests? do guests need directions? or hotel information if they stay overnight?
will there be "wedding gifts" in the room that are there for the couple's enjoyment later on?
if it's a wedding renewal, do you want to display your first wedding photograph?
and who is your officiant? (someone to marry you)
will either of you have anything special hidden on you? (ie: garter, chastity device, piercing or tattoo)
will the couple be going on a honeymoon? if it's a marriage renewal, are you going to the same place?
if so, where? to a regular or kinky location? Check BdsmTravel.com for unusual places to visit.
will there be a play party later in the night after the wedding?
any "just married" sign for the wedding car that the couple drives after the wedding?
are you allowing enough time to plan everything? and enough time to tell your guests?
Think about all these questions. If you need some ideas for the wedding/reception, it's a good idea to visit online wedding websites, stores such as our shop, or even bridal shows and magazines for ideas. See the bottom of this page for some links. Take what you like and incorporate your special touches and vows. And remember a small wedding gives you the chance to maximize quality over quantity. You can splurge to make it a memorable day for you and your guests. No matter what, it is going to be an incredible day for you, just do what you want!
---
Some Ideas for Wedding Favors to give to guests as a thank you for coming:
The Erotic Bakery's cookies with an edible photo of your choice
Cookies in a shape or the couple's favorite flavors
Give a cd of the couple's favorite songs. Use personalized Wedding CD Labels
Small wrapped chocolates with a personalized label on them of the couple's names and date.
Small boxes or fabric bags with something special in them. (ie: cupcakes, candy, almonds, chocolates, pre-made favor, etc.)
---
IDEAS submitted so far when I asked some people what they would do for a Femdom wedding:
1) "Classy kink; corset for her, tailored and complimentary clothing for him. Boots, I'm a fan of boots. Perhaps the addition of a dress collar along with presentation of ring for him and some sort of coordinating jewelry along with the ring for her (Key on chain, bracelet to coordinate, etc.). Wedding party also garbed in classy kink. Striking color scheme. Some sort of show of submission on his part during the reception, perhaps him down on his knees as a preface to the first dance. I don't know...whatever the couple's tastes are."
2) A Femdom couple could include "obey" only in his vows. Have a penis shaped bride's cake. Maybe him on his knees through the vows and then kissing her shoes rather than her lips.
3) She could have a corset style wedding dress.
4) A male sub said: "I would be kneeling at the alter naked, save for my collar and chastity device, and at some point I would present the key to the chastity device to my Mistress/Wife and she would then put the key on a chain and wear it as a necklace. The vows would include me promising to obey her, to provide for Her satisfaction and pleasure at all times, and to recognize Her as the sole source of any pleasure She may allow me. In essence, the ceremony would revolve around the exchange of power between the Mistress/Wife and the slave, and will define the type of lifestyle to be lived."
5) You could have a theme wedding (such as a renaissance or pirate wedding) but maybe with some femdomme/malesub vows.
6) Have him walked down the isle by another Femdom in collar and leash. When the leash is presented to the owner he goes to his knees for the rest of the cermony. The kiss will be to her feet.
7) He could wear a white dress if he's a crossdresser. Or if not, he could crawl down the aisle. She could ride him.
8) Instead of throwing rice, she could have all her femdomme friends line up and take turns on him, such as giving wedding spankings.
9) You could swap the order in which the rings are given. Let her kiss the groom, rather than the normal way of him kissing her.
10) Have another male sub kneeling as a ring bearer.
---
Resources/links:
Wedding magazines or shows: GetMarried.com (I like their daily video clip) or Brides.com or theKnot.com,
For unusual, offbeat weddings, see offbeatbride.com
A list of some officiants to marry you. You might find a alternative lifestyle friendly officient here:
http://www.ulc.net/index.php?page=minister_directory
A bridal show in several cities: http://www.greatbridalexpo.com
Frugal Domme's page on Ceremonies and Rituals: http://www.frugaldomme.com/ceremonies/content.htm
Cuckold marriage ceremony:
http://the-femdom.com/femdom-marriage
---

- Bookmark this site and if you have any new ideas for this page let me know. -Mistress Lisa, FemDomWeddings